Moselle • Rhine • Eifel • Hunsrueck
Home
Moselle
The Moselle with world-famous wine and vacation towns: Steep vineyards, colorful Mosel promenades, narrow, cobbled streets with ancient buildings of various styles, lively people, wine cellars and taverns, restaurants and hotels, sports activities and wine festivals combined with unspoilt nature, large forests, extensive meadows, beautiful hiking trails, tradition, customs and warm hospitality.
Many of the homes and apartments offered by our real estate service on the Moselle are ideal as a holiday home, holiday apartment or as a second home. Often they only have small, easy-care plots. In many cases, they are also rented to holiday guests and are a very good investment.
Historic property with Moselle view and Garden mit Moselblick und Garten in a prime location of Zell on the Moselle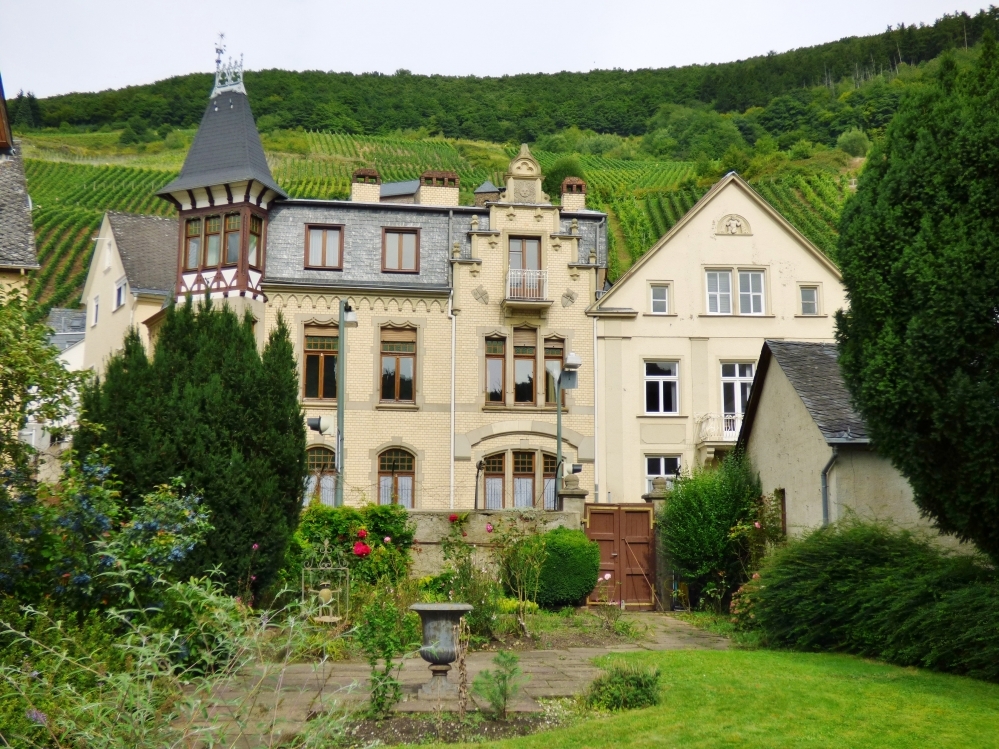 Many original features and character as a family home or to live and work
The property consists of a listed residence from 1888 with inner courtyard, large storage areas, a beautifull Mosel view garden across the street with a double garage. The garden is also suitable as a building plot. In 2011, the electrics, water and heating installations were all checked, repaired or replaced where needed by certified companies, the plasterwork was restored, double-glazed panes were fitted to the original windows in the living rooms, the oak windows were newly varnished on the outside, beautiful floorboards exposed, etc., so that the property is in good condition. Great emphasis was, however, taken to retain the original features and the historic charm of the property as much as possible. Some rooms are not renovated, but of solid structure, so that there is flexibility for additional bathrooms and where to install the kitchen. The property is ideal for a live and work combination, i.e. offices, guest accommodation, therapy rooms, artists studios.
Moselle-Hunsrueck and Rhine-Hunsrueck
To the right of the Moselle valley and only a short distance from Europe's major highways you will find a world of peace and tranquility in the Hunsrueck hills. Between the rivers Moselle, Rhine and Nahe small towns like Blankenrath, Emmelshausen, Kastellaun, Kirchberg and Simmern offer excellent schools, retail facilities, best medical care and interesting cultural events. In the Mosel-Hunsrueck and Rhine-Hunsrueck, all generations can enjoy untouched nature in a safe, rural environment. Extensive forest areas, hidden waters and picturesque, unspoiled farming villages belong to this landscape. Both the Mosel and the Rhine Valley are within easy reach, even for a small excursion.
The Rhine-Main and other urban areas can be reached quickly by the A61 motorway. Our real estate prices are however very cheap in comparison, so the Hunsrueck region becomes increasingly interesting for commuters. Often, the Hunsrueck villages have no shops or restaurants, but they are quiet, the air is clean and the people very helpful. A good infrastructure can always be found just a few kilometers away.
Real estate in the Mosel-Hunsrueck and Rhine-Hunsrueck region generally has a lot of living space and large plots of land. Often they have additional, interesting outbuildings and are ideal for craftsmen, DIY enthusiasts and large families. We offer both, comprehensively and true-to-style renovated houses, as well as worthwhile renovation projects, that can be gradually updated.
Modernized half-timbered house with guest apartment in Moselle-Hunsrueck near Treis-Karden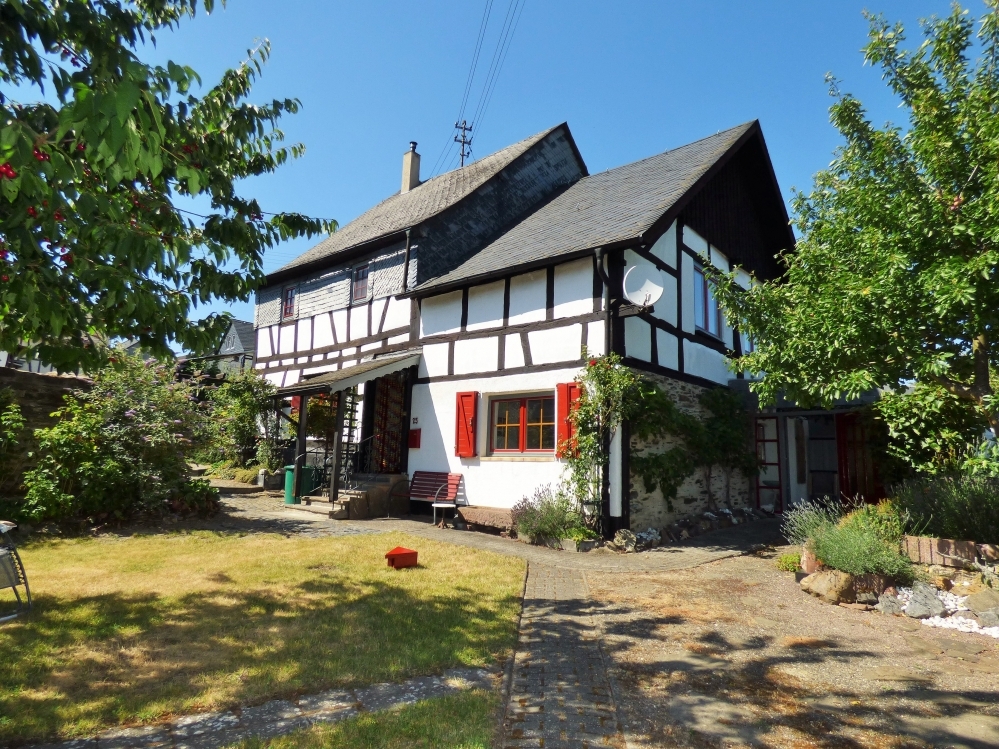 Idyllic holiday home of permanent residence in quiet village location
The year of build of this beautifully renovated timber-framed house is unknown, it is estimated to date from around 1800. The main house offers enough room for small families, further living space can be created in the loft. The converted barn now houses a large living room with many exposed beams. Below in the former stable, there is a separate apartement for guests, which could also be rented out to holiday makers. The covered patio area by the rose pond can be fully enclosed with glass panels in colder weather, so that the natural garden can be enjoyed all year round. The idyllig property is set back from the street in a very private setting at the edge of the village of Lieg. Behind the house, there is open countryside with meadows and forests.
Exclusive designer dream house with large garden in the Rhine-Hunsrueck near Kastellaun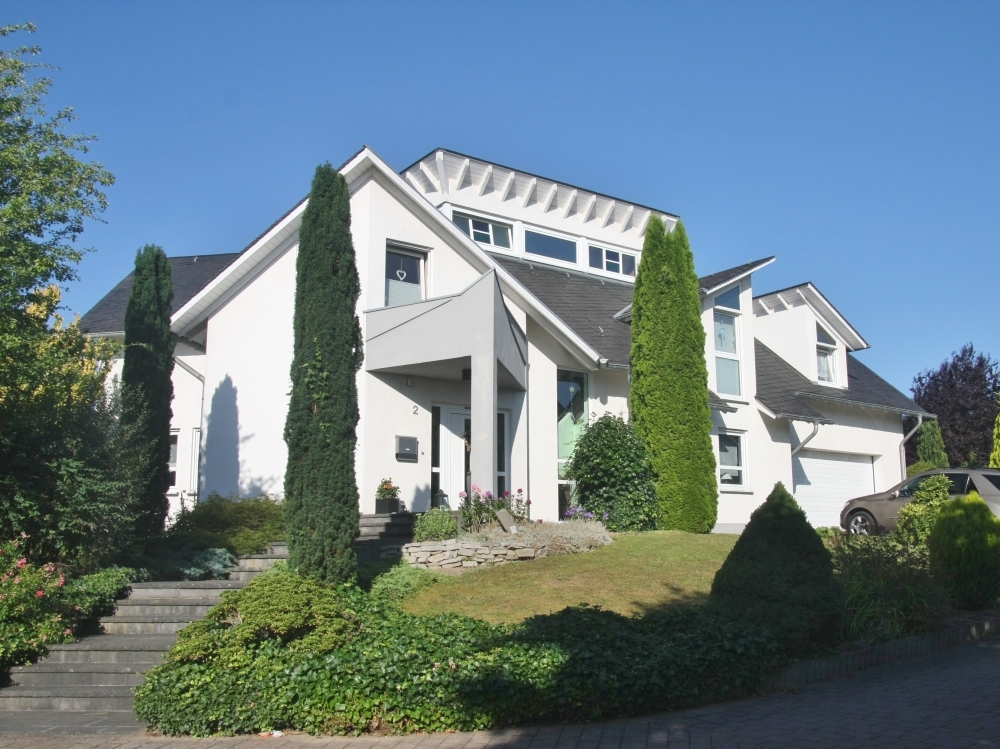 High standards will be fully satisfied in this stylish home.
This designer house was built in 1996 and offers exceptional style and quality for highest standards The interiors are modern and in immaculate condition, so that the property can be moved in without any work needed. There is plenty room for families or for a live and work combination, since the usage for the rooms is very flexible. The private rooms are in separate wings accessed via an open gallery above the living area. There is a master suite with bedroom, balcony, private bathroom with tub, shower and 2 sinks. In a separate wing there are 3 further rooms and a shower room. The nicely landscaped garden on different levels, which are connected by low dry-stone walls, offers enough space to play, sunbathe or grow fruit and vegetables. The sheltered, south-west facing terrace invites you to relax, celebrate with friends and enjoy the summer. The location in a well-presented neighbourhood of designer new builds in the popular village of Mastershausen near Kastellaun is ideal for families with children. Here the world is still in order - children can grow up in peaceful, natural surroundings, and adults can relax after a demanding working day and enjoy life.
Mosel-Eifel
On the left-hand side, the romantic middle Moselle valley borders to the unspoilt Mosel-Eifel hills with lush meadows, vast forests and volcanic lakes. There is a lot to explore, for example the steepest vineyard in Europe at Bremm, the only Glauber-salt thermal spring in Germany at Bad Bertrich, the Formula 1 race track Nürburgring, unique castles like Eltz and Cochem or wonderful hiking trails like the Moselsteig and the Eifelsteig. Good road connections to the A48, A60 and A61 motorways offer easy access from all parts of Germany and Europe. The new "Hochmoselübergang" Motorway bridge will reduce travel time, especially to the Benelux countries. In the Mosel-Eifel, the villages are usually small and tranquil, but are not far away from larger cities such as Wittlich, Koblenz or Trier. Man and nature are still in harmony. You will find an atmosphere of friendliness, sympathy and love of life and nature. With the good infrastructure, real estate in the Mosel-Eifel offers excellent value-for-money. We offer properties in all sizes and price ranges.
Beautiful Bavarian-style country home with dream garden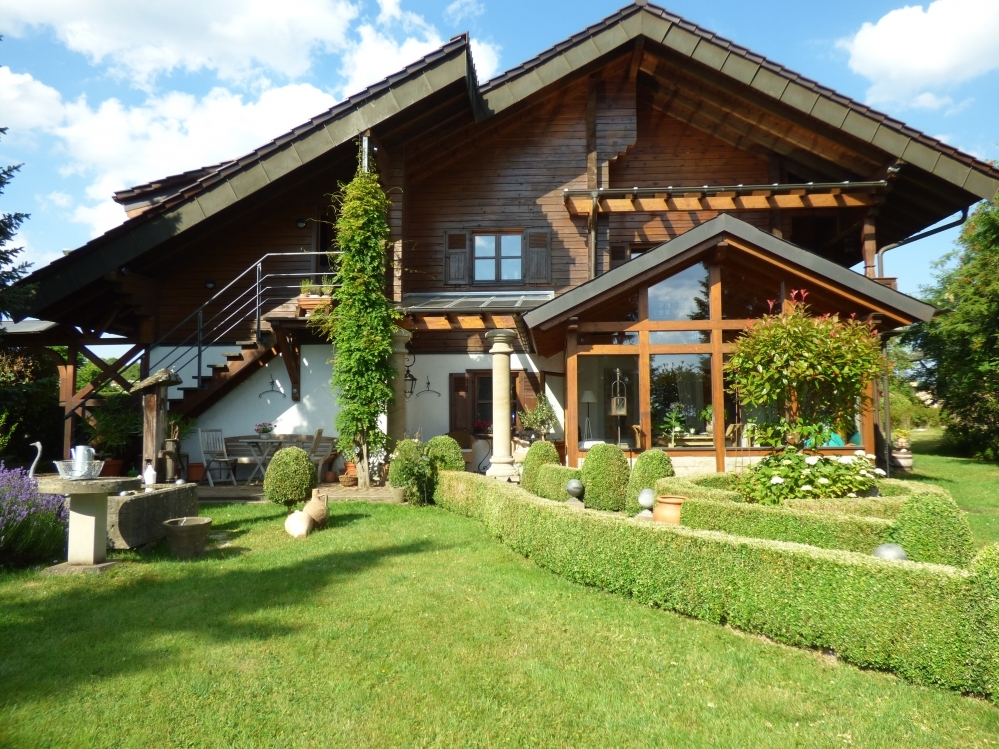 Enjoy the peaceful atmosphere, whether as a permanent or holiday home
This high-spec country home was built in 1991 and continuously updated and extended by a bright and airy conservatory, which gets the sun also in the winter months. There is a lot of very flexible space, both floors can be used separately, so that the property also offers itself for live-and-work situations, i.e. for holiday lets, home office or therapy practise. The beautifully landscaped garden with sheltered seating areas and a pavilion invites you to relax or celebrate with friends, and you will soon recover from a demanding working life. The location in a high-quality residential area of Beuren is very quiet, behind the garden you are in open countryside with meadows and forests. Children can roam freely and grow up care-free, and the surroundings offer nature lovers, walkers or cyclists a large scope of activities.